Have a wonderful Christmas Break! See you on January 5, 2021.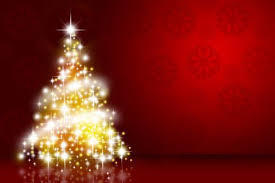 Early Dismissal tomorrow @ 11:00am. The bus to/from Marshall will run. There is no aftercare!

Please remember that parents are not allowed into the building at the cafeteria doors. Anyone delivery goodies for Christmas parties and/or gifts can come to Holly's door (East Side) and we will deliver them for you! Blessings to you during this season!

Just a quick reminder that our Kindergarten and First Grade students will be singing at the 10:15 service tomorrow! We will also be recognizing Mrs. Ellie Baker. Please join us!

Ellie Baker spent 15 years leading our youngest learners here at Trinity! We would like to congratulate her on her retirement this Sunday at the 10:15 service. Please come help us celebrate. We'd love to have many of her former students there to celebrate with us.

GREAT NEWS! School will be in session as regularly planned! Please ignore the previous text regarding an early dismissal! Next week will remain the same as on the main calendar. All day school on Thursday and an 11:00 am dismissal on Friday the 18th. Sorry for the confusion.

SCHOOL PHONE LINES ARE DOWN!! If you need to reach the school, please call the church line at 660-674-2376. They are working to get the line repaired asap. Thank you

Christmas Program Details All students pre-k through 8th grade have been working hard to create a program for you to enjoy. We are putting all the pieces together next week and will be uploading the video to our website, facebook, and on the app prior to Christmas Eve. We would also love to share it with you via dvd. Should you want a copy, reach out to the office and we will burn the program for you on dvd! Recording begins NEXT week. Grades 7-8 have costumes provided already. All other grades are asked to dress up (Christmas clothes--dresses, sweaters, shirt & ties, etc) if they want to on the days they are recording. They can bring a change of clothes, as well. Grades 4-6 will record on Monday. Preschool - Grade 1 will record on Tuesday. Grades 2-3 will record on Wednesday. Grades 7th & 8th will record both Monday and Wednesday. The entire school will record two final choir pieces on Friday, the 18th. Again, students may dress up if they'd like to.

Christmas Sales Orders are coming home with students today!

All games vs Bueker Middle School have been canceled.

Timothy School's Covid Requirements: Thursday December 10th games ; 4-6 girls, 7/8 girls & boys; ( NO 4-6 boys game) Two spectators per player, per game. Please be masked. At Timothy, please bring a lawn chair to sit around the perimeter of the gym, 6 feet apart. -Temperatures will be taken at the door. All parents, players, coaches, and refs will get their temperatures taken. It must be 100.4 or less to enter. -We will still need to pay for refs, so we will just ask that you bring exact change (which is $2) to watch the game. -Athletes will wear their mask into the building and only take it off when they are on the court. If on the bench, they are masked. (They can wear them while they play, if they choose). -Parents, coaches, scorekeepers, and refs will be masked. (Refs may take off masks while reffing) -Balls will be wiped down between games Thank you for being respectful of the rules at other schools! Mrs. Wells

Only two more chapel services to raise money for Samaritan's Purse, Operation Christmas Child! Remember any chapel offerings go to provide a gift box of goodies for those in need overseas!


Tomorrow's (12/8) basketball games: the 7/8th grade girls' game begins at 5:00 pm against Santa Fe, the 7/8th boys' game will be at 6:00 pm.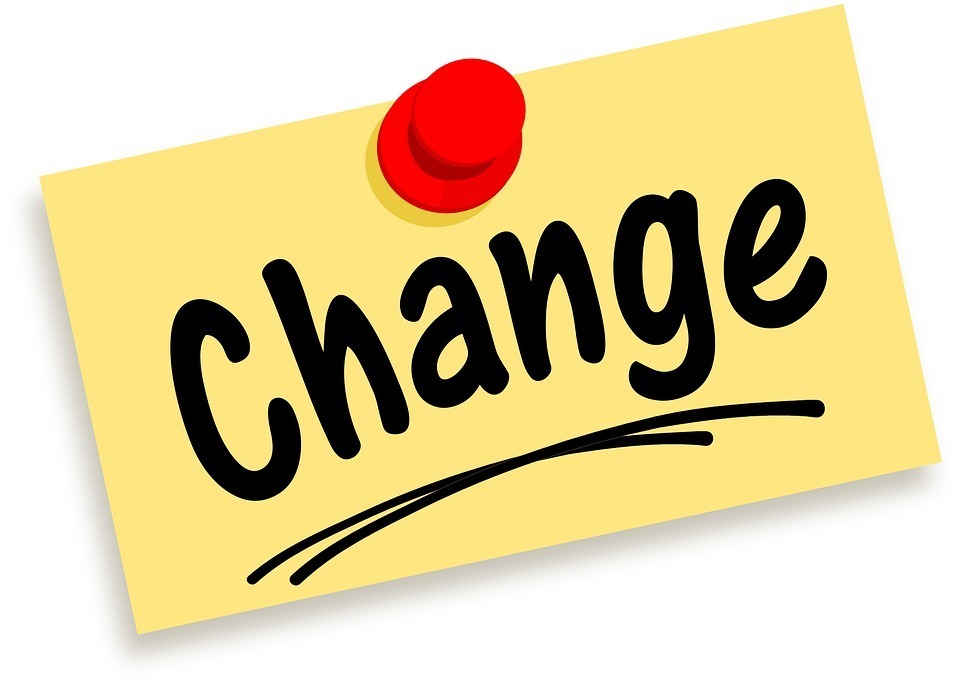 Preschool sings at the 10:15 service tomorrow!! Hope you can join us.

Holiday hat and glove drive! Donations will go to the Trinity Lutheran School students and those in need!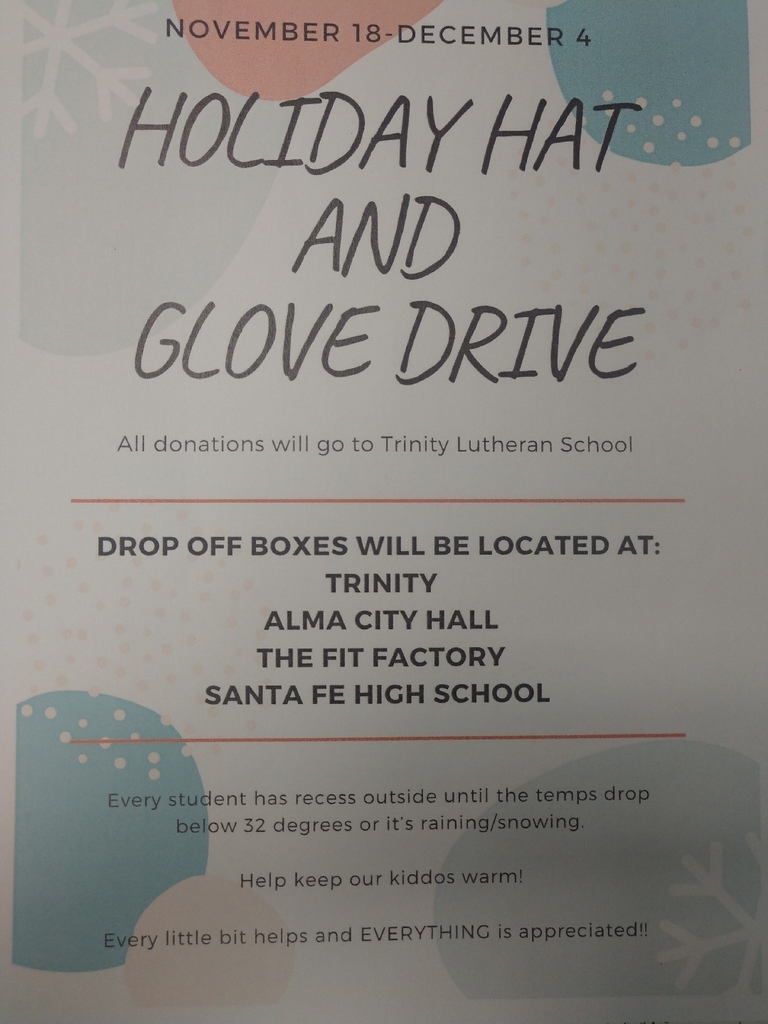 Play ball!! The games scheduled for this evening will continue as planned! 7th and 8th girls at 6:00 and 7th and 8th boys at 7:00 (home games against Santa Fe). Masks required; two spectators per athlete; no concessions

NO 7/8 boys basketball practice tonight!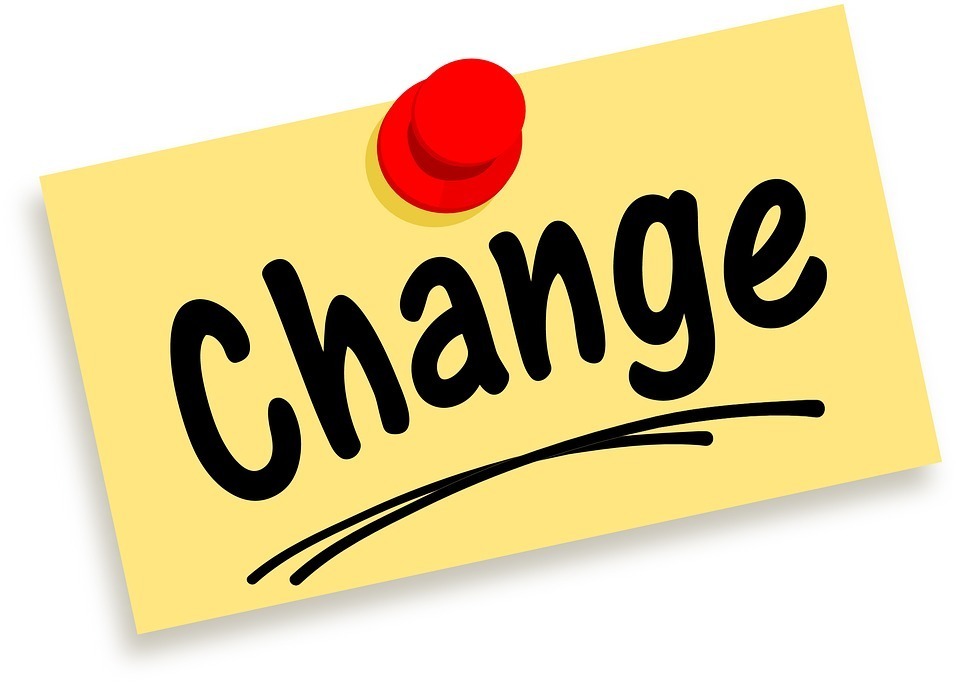 Please remember to send a refillable water bottle for your students if at all possible! We have water bottle filler stations available for their use! Thank you,

Basketball games for tonight have been postponed until a later date. There will still be 5/6 boys practice!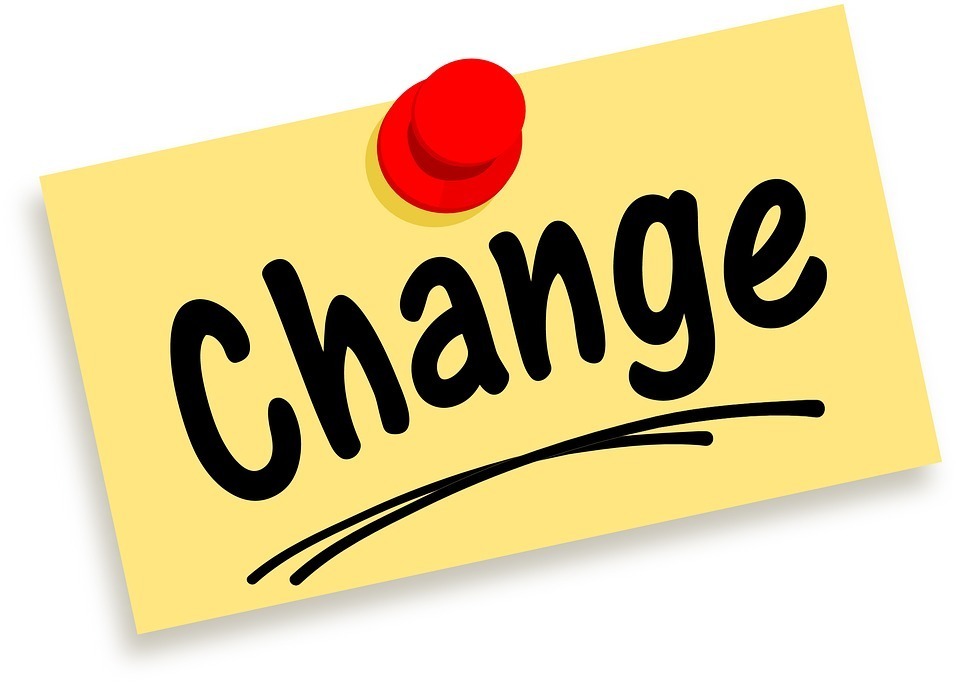 During a year of unexpected challenges, we pause today to be thankful for our blessings. The faculty and staff at Trinity are thankful for you, our families. You have supported us through these difficult times and entrusted us with the education of your most cherished treasures. We are blessed to be able share the word daily with our students. May we always remember 1 Thessalonians 5:16-18: Rejoice always, pray without ceasing, give thanks in all circumstances; for this is the will of God in Christ Jesus for you.