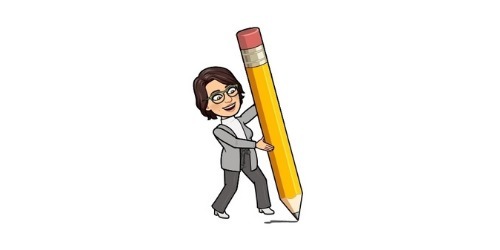 UPDATE: My apologies, the Bueker games are TOMORROW night!!! January 20th

Auction Item donation extended through tomorrow!! It is not too late to be entered into the FREE SUCKER drawing! Bu tomorrow is the last day--if you want to purchase a gift card through our scrip program, reach out to the office! 660-674-2444

Updated tournament brackets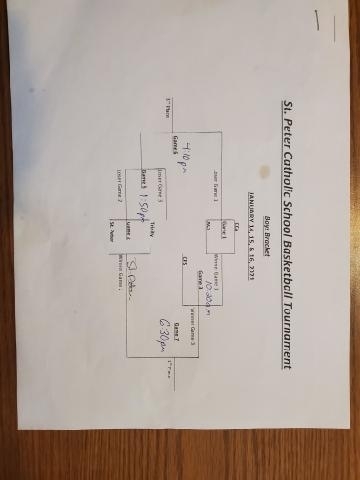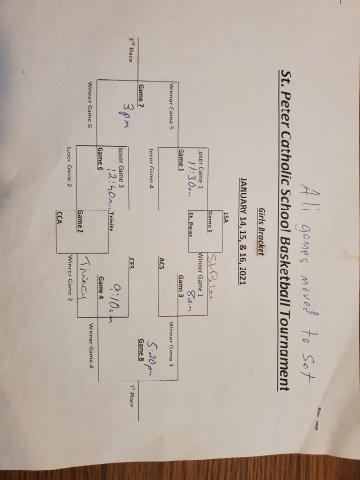 The games for Friday evening are postponed to Saturday morning. The schedule will be as follows: 8:00 am Game 3 Girls AF and AS 9;10 am Game 4 Girls AF and AS 10:20 am Game 3 Boys AF and AS 11:30 am Game 5 Girls AF and AS 12:40 pm Game 6 Girls MC and JV 1:50 pm Game 4 Boys (but listed as Game 5 Boys on Bracket) MC and JV 3:00 pm Game 7 Girls MC and JV 4:10 pm Game 5 Boys (but listed as Game 6 Boys on Bracket) MC and JV 5:20 pm Game 8 Girls MC and JV 6:30 pm Game 6 Boys (but listed as Game 7 Boys on Bracket) MC and JV

Due to impending weather, Trinity will not be in session today! Stay safe. See you Tuesday!

REMINDER: Tomorrow (1/15/21) is an early dismissal at 12:30. There is NO SCHOOL on Monday.

Important information regarding the St Peter's basketball tournament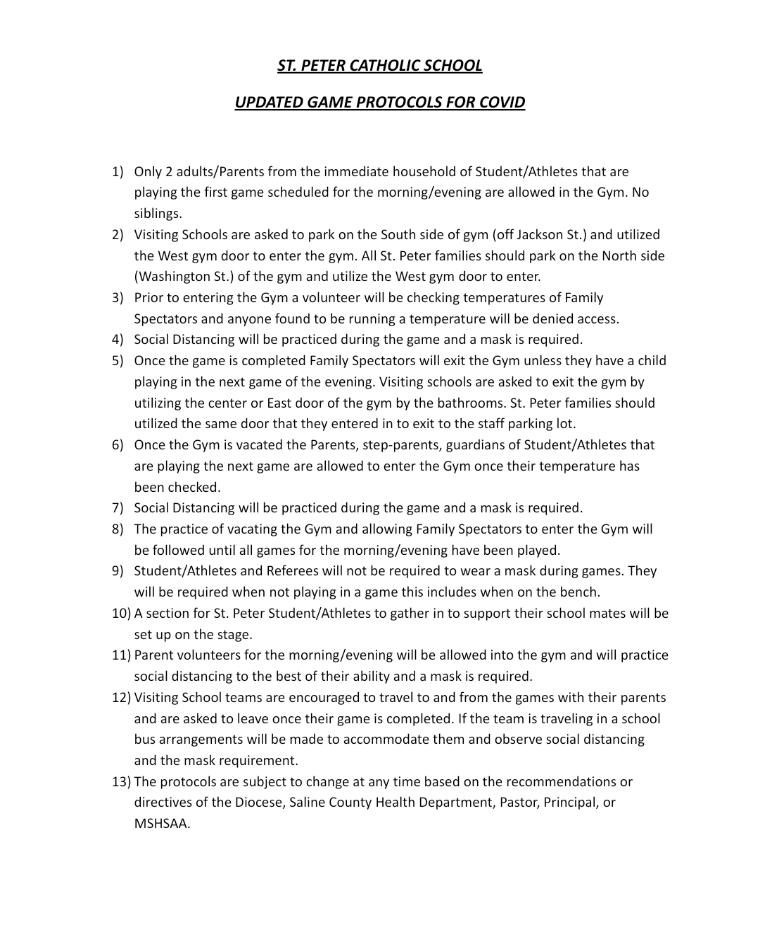 Just a reminder! Bring your auction items in by this Friday to be entered into the drawing for FREE SUCKER FRIDAY for the rest of the year!!

Menu change! Please note the changes to the menu this week. TOMORROW BBQ Pork sandwich Baked beans Strawberries Brownie Milk

A reminder that Trinity returns to school on Tuesday the 5th! Cafeteria doors open at 7:30, tardy bell rings at 8:10, and dismissal is 3:15!

The faculty & staff at Trinity Lutheran School wish you and your family a safe and happy New Year! We look forward to returning to class on Tuesday, January 5, 2021.

Merry Christmas

"Glory to God in the highest heaven, and on earth peace to those on whom his favor rests." Enjoy the Children's Christmas Eve Program.
https://youtu.be/AF6TUJ4_c9A

Have a wonderful Christmas Break! See you on January 5, 2021.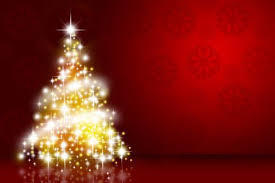 Early Dismissal tomorrow @ 11:00am. The bus to/from Marshall will run. There is no aftercare!

Please remember that parents are not allowed into the building at the cafeteria doors. Anyone delivery goodies for Christmas parties and/or gifts can come to Holly's door (East Side) and we will deliver them for you! Blessings to you during this season!

Just a quick reminder that our Kindergarten and First Grade students will be singing at the 10:15 service tomorrow! We will also be recognizing Mrs. Ellie Baker. Please join us!

Ellie Baker spent 15 years leading our youngest learners here at Trinity! We would like to congratulate her on her retirement this Sunday at the 10:15 service. Please come help us celebrate. We'd love to have many of her former students there to celebrate with us.

GREAT NEWS! School will be in session as regularly planned! Please ignore the previous text regarding an early dismissal! Next week will remain the same as on the main calendar. All day school on Thursday and an 11:00 am dismissal on Friday the 18th. Sorry for the confusion.