SOAP SALES PICK UP MOVED TO FRIDAY!! Due to mechanical issues with the driver's truck, soap will be delivered TOMORROW FRIDAY at 3:00. Sorry for the inconvenience.

Don't miss the science expo!! Tomorrow 5:00 to 7:00 school gymnasium!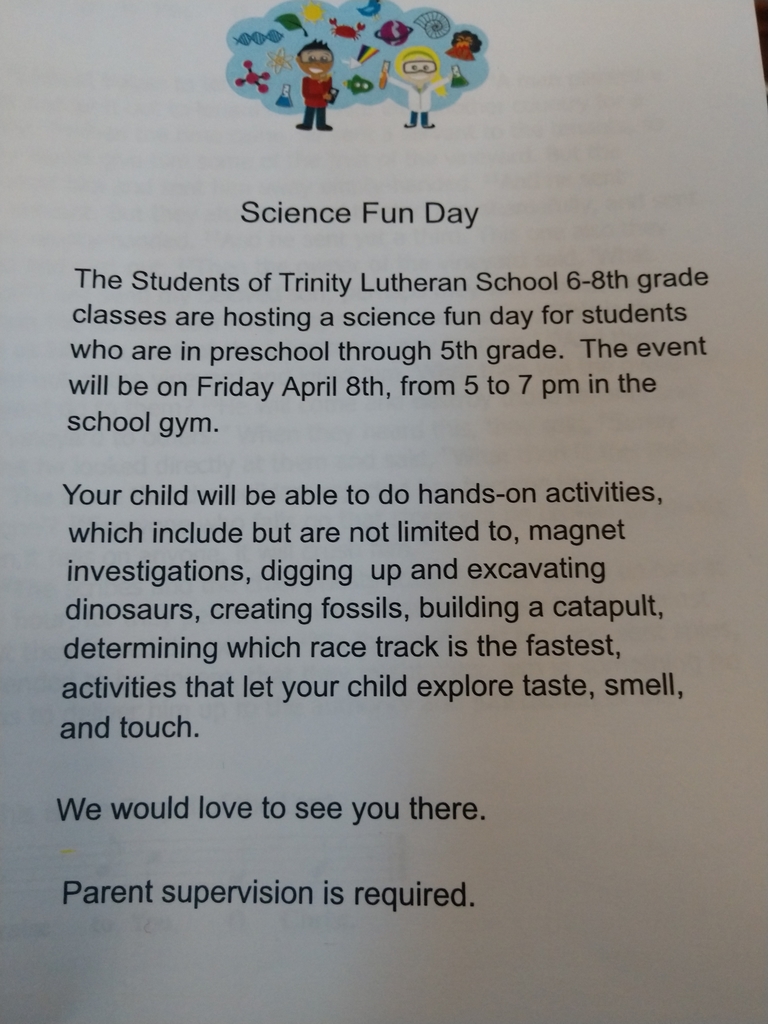 Soap sales pick up TODAY, 3:00 at the school cafeteria!

Shirt orders for the spring program are due back tomorrow!

Just a reminder there is no school for Trinity Lutheran tomorrow! We will see you Tuesday.

This year's spring program, Holy Moses, will be on May 6th in the school gymnasium. T-shirt order forms came home today in backpacks. Thank you to the PTL for helping our school purchase these for every student!

IMPORTANT: The City of Alma will be working on repairs to the water system on Monday. There is a likelihood that Trinity's water supply will be diminished or even disabled during school hours. The safety risk and health concerns of being in school with no water are high, therefore, we are canceling school for Monday, April 4. We are aware of the inconvenience this may cause, however, the safety of our staff and students is at the forefront of our decision. We hope this early notification will allow you ample time to make necessary arrangements. Thank you for your understanding.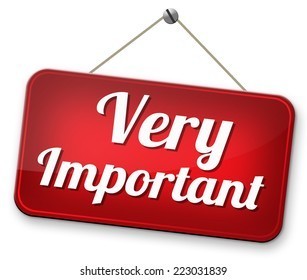 The issue with LESA scholarship applications has been resolved! You should be able to file for assistance now!
https://lesastl.org/
Thank you for your patience!

The LESA application has been difficult for some of our families. I'm trying to figure out the issue. I'll update you shortly!


JH Track meet at SFHS tomorrow has been postponed due to track conditions. Makeup date TBD.

Correction: soap sales will be delivered NEXT Thursday, April 7th at 3:00 at the cafeteria doors.

The school ID code for schoolstore.net is 121853

It is not too late for your child to earn their FREE fuzzy slap bracelet. The school store program information came home on Friday. However, if you cannot locate it, the link to the website is below. This is a NO COST program to our families, but helps us raise money for our classroom teachers. The deadline is tomorrow at 3:15!
www.schoolstore.net
Enter 5 emails to receive your bracelet!

PARENTS: Soap sales will be delivered Thursday, March 31. Please be prepared to pick up any orders at 3:00 pm at the cafeteria doors! Thank you

If you would like to share your pictures of tonight's Daddy Daughter Dance in Concordia, text them to me (Mrs. Wells). I would love to post them on our website/Facebook!!


Parents of students in Grades 4th- 8th: If you have not reached out to Amber Ballenger about your child participating in track & field this spring. Please do so soon, as practices will be starting this week; at 660-815-7229 or
athleticdirector@trinitylutheranalma.com

Tomorrow is the last day to turn in soap sales and reach for the stars reading journals!

Soap sales orders need to be returned tomorrow!